Montana Special Election: Why Greg Gianforte's win isn't all good news for Republicans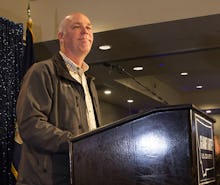 Republican Greg Gianforte may have won the special election in Montana's at-large House seat Thursday night, but experts warn the GOP not to take the victory as a sign their party will fare well at the ballot box in the 2018 midterm elections.
Political analysts say Gianforte's six-point win over Democrat Rob Quist shows proof of eroding GOP support, given that President Donald Trump carried the state by a 20-point margin in the presidential election a little more than six months ago. 
A swing of that size in such a short period of time suggests a climate that could put Republican control of the House in jeopardy.
"It's another warning for Republicans," Stu Rothenberg, a non-partisan political analyst at Inside Elections, said in an interview. "Trump won the state/district by 20 points, so the result adds to the conclusion that some Trump voters are no longer comfortable with him."
FiveThirtyEight elections data guru Nate Silver had a similar take in his analysis of Thursday's result.
"A night where Democrats are losing Montana by 'only' six or seven points is consistent with the sort of map you might see if Democrats were either taking over the House, or coming pretty close to it," Silver wrote.
Republicans also heavily outspent Democrats to help push Gianforte to a six-point win.
Republican outside groups spent $5.6 million to boost Gianforte, while Quist got about $650,000 in outside help, according to Roll Call. 
That's a massive $5 million disparity in a state where advertising runs cheap — and the kind of disparity that will be more difficult for Republicans to maintain when the entire slate of House seats come up for election in November 2018.
Of course, every election has its quirks. Perhaps none more so than the Montana special election, in which Gianforte was charged with assault the night before voters headed to the polls.
Because of Montana's use of vote-by-mail ballots, roughly 68% of the vote was already cast before Gianforte's violent outburst — which he apologized for in his victory speech. 
Still, a win is a win for Republicans, and that's a point the party will make in the wake of Gianforte's victory.
But Republicans don't have much time to celebrate. 
The focus now shifts back to a special election in Georgia's 6th District — a seat Trump barely won in 2016 and that polling shows is much closer than the Montana race ever was.
Voters head to the polls on June 20 in that contest, which non-partisan election analysts rate a toss-up.