The 'House of Cards' season 5 ending is a paradigm shift for the series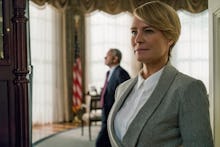 Whenever fans of House of Cards discuss the ruthlessness and sheer badassery of Claire Underwood — stealing some scenes and the spotlight from her husband — the temptation is to refer to the series as "House of Claire." And this is also important: Claire wouldn't be nearly this fearsome or compelling without Robin Wright's Emmy-winning performance.
By the end of the Netflix original's fifth season, however, it's a nickname that actually feels quite apt for the show, which has been irrevocably changed going forward with — forgive me — a major shuffling of cards. 
(Editor's note: Major spoilers for House of Cards season five below.) 
In the season finale — which Wright also directed! — Claire is taking over as president after Frank is forced to resign from office. Considering viewers know that Frank has literally committed murder, and most recently tampered with the U.S. election (how timely!), it's perhaps unsurprising that his short presidency was mired in controversy and White House leaks. 
Or was it his plan all along? Frank explains to Claire — and this is something so ridiculously obvious I actually question his intelligence — that the most powerful people are usually the ones out of the public, who can influence figures in the spotlight. "Real power lies behind the power," he tells her. Essentially, with Claire as president and Frank running things behind the scenes, the Underwoods will be more powerful than ever. 
But Claire is peeved by his plan, in part because he didn't fill her in. That's their one "rule" for one another: always keeping each other in the loop with the endless Machiavellian tactics. She also holds all the cards: For this plan to work, Claire still has to give him a presidential pardon following his resignation. Plus, he wants her to pardon Doug at a later date, for taking the fall for Zoe Barnes' murder after the fictional Washington Herald got perilously close to the truth with Frank. 
Claire has been tempted by her presidential power and distancing herself from Frank; it's no secret that their relationship has been strained in recent years. Earlier in the season, when she temporarily becomes acting president — if you didn't watch, it's a long story — she noticeably hesitates putting Frank under individuals privy to certain classified information. So it makes the final twist of the season a bit less surprising, though no less satisfying. 
She seemingly refuses to pardon Frank, ignoring his phone calls after giving a speech to the American people, announcing the successful killing of ICO terrorist (ICO is the show's ISIS equivalent) leader Yusuf Al Ahmadi. Then, completing what was first teased at the end of season four, she breaks the fourth wall and addresses the viewer. "My turn." 
It's awesome, but it doesn't mean smooth sailing for Claire in the White House. For starters, even if she doesn't pardon Frank, you know he'll have a plan to exact revenge — and possibly even kill her. What's more, the show has been surprisingly good about deaths having major repercussions seasons after the fact. Since she murdered her White House concubine Tom Yates, and had her potential VP pick Mark Usher (played by newcomer Campbell Scott) take care of the body, she has just as many skeletons in her closest as Frank. 
That being said, we can say in earnest the show going forward is "House of Claire." I can't wait for season six. 
The fifth season of House of Cards is currently streaming on Netflix. 
Mic has ongoing coverage of House of Cards. Follow our main House of Cards hub here.