'House of Cards' Season 5 Release Time: When to watch new episodes on Netflix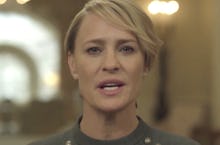 Frank and Claire Underwood will continue running their political circus on House of Cards when the series returns to Netflix on Tuesday. In season five, viewers will witness whether the power couple can win a re-election. New episodes of the series arrive on the streaming platform at 12 a.m. Pacific and 3 a.m. Eastern. 
In the latest trailer for season five of House of Cards, Claire looks into the camera and delivers an address to the American people that seems to be a ploy — the Underwoods want their administration to appear trustworthy to citizens by any means necessary:
The president and I have a simple request. Tell us what you see. If anything in your environment strikes you as a bit odd — a bit off — pick up the phone, whether it's a package or a person that seems out of place, we'd love you to let us know, because there's a lot of noise out there these days. And noisy press that's choosing to dwell on the past instead of what's happening right now. My husband an I want to protect you. In two weeks time you will be heading to the ballot box to tell you what kind of country you want to live in. It's a profound choice, but no matter who wins this election we're going to need to work together. 
Frank and Claire Underwood are also seeking to maintain power over America beyond the two-term presidential limits. "Underwood 2016. 2020. 2024. 2028. 2032. 2036," Frank proclaims in another trailer released on May 1. 
Before new episodes hit Netflix, get a refresher on the drama that unfolded earlier in the show. Check out quick overviews of seasons one through four of House of Cards here. 
Mic has ongoing House of Cards coverage. Please follow our main House of Cards hub here.