'Arms' Global Testpunch Start Times: Here's when you can get your hands on the free demo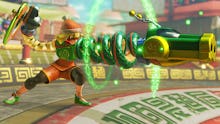 Want to get your hands on Arms, the forthcoming fighting game for Nintendo Switch? Nintendo's opening the game up to anyone who owns a Switch over Memorial Day weekend — and the weekend after — so you can do just that.
Here's what you need to know about the start times for Arms' Global Testpunch.
Arms global testpunch start times
The structure for the Arms testpunch is a little strange. You'll only be able to play for one hour at a time during designated windows throughout the weekend. Here is the full list of times you'll be able to play Arms, according to the text on the Nintendo eShop:
Friday, May 26 (North America only)
Nintendo's hosting another testing period the following weekend during the same hours. Here are those times listed out:
Friday, June 2: (North America only)
If you're planning on participating, you should download the Arms global testpunch from the Nintendo eShop now so that you're ready to go as soon as one of the above times rolls around.
More Nintendo switch news and updates
Looking for more Nintendo Switch news? Check out how blind gamers are using the Nintendo Switch. Nintendo's left Joy-Con issue turns out to be a hardware problem — here's how to solve it. Find out how to buy a console amidst the recent restock. Learn why the Switch cartridges taste so bad. Check out our comparison photos sizing up the Switch to the Wii U GamePad (part one and part two), or find out how to make use of ethernet without the dock and the best way to get alerts when new stock arrives.