Navigating Trump's America: After the Montana special election, what's next for Democrats?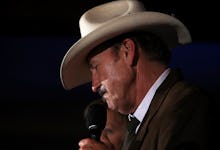 Beating a Republican was always going to be difficult for Rob Quist, the Democratic candidate for Congress in Montana. Montanans voted for President Donald Trump by 20 percentage points in November, but passed over Republican Greg Ginaforte in the gubernatorial election. The tech millionaire who allegedly assaulted a journalist on Wednesday would not lose two elections in a row.
On Thursday night, Ginaforte won the Montana special election to fill Interior Secretary Ryan Zinke's U.S. House seat. After his victory, Gianforte apologized for body slamming a reporter — something national Republicans had called on him to do all day.
The race, like Kansas and Georgia before it, drew intense media attention as reporters questioned whether backlash against Trump could propel a Democrat to win in Montana.
The problem with that theory: Democrats already win in Montana. The state has a Democratic senator and governor. As BuzzFeed documented, Montana voters view themselves as fiercely independent.
While Democrats haven't won in the three House special elections so far, they've done better than anyone expected shortly after Trump's victory. Jon Ossoff, the Democratic candidate in Georgia's 6th District, nearly won 50% of the vote in April and now faces a runoff election in June.
These results continue to send mixed messages about how Democrats will or won't succeed against the GOP in the 2018 midterm elections. Will anger against Trump produce a wave that takes back the House? Conservatives typically turn out at higher levels than liberals in midterm elections. Will that continue in 2018 to reaffirm Trump's mandate? Are we reading into these special election results too much? Time will tell. Email me at trumpsamerica@mic.com with your thoughts.
This is Mic's daily read on Donald Trump's America. Welcome to the political newsletter that has not been linked to the Russia probe. 
What we're watching
Today: The Democrat in Montana lost, even after his opponent was charged with assaulting a reporter.
More: Jared Kushner is being investigated for meetings with Russians.
Even more: President Donald Trump drew little praise from America's NATO allies for his criticism — and a push — in Brussels.
Yes, more: Another court struck down Trump's travel ban.
Trump's agenda today: Meeting with leaders of the G7 in Italy.
Jared Kushner linked to Russia probe
Investigators are reportedly focusing on Jared Kushner, Trump's son-in-law and White House adviser, because of the "extent and nature of his interactions with the Russians," the Washington Post reported. However, the Post notes Kushner has not been accused of any wrongdoing.
Kushner met with the Russian ambassador and a top Russian banker after the presidential election. The banker's business faced U.S. sanctions, raising questions about Kushner's meetings and his closeness to the president. Similar to Attorney General Jeff Sessions' omission, the New York Times reported Kushner did not include those meetings on a form he submitted to request top federal security clearance.
While that investigation continues, Democrats want Kushner's clearance suspended.
Trump criticizes — and pushes — NATO allies
At a summit of NATO leaders Thursday in Brussels, Trump drew two Trumpian headlines. As the presidents and prime ministers walked together, a video caught Trump pushing the prime minister of Montenegro aside so he could appear at the front of the group. It's a must-watch diplomatic faux pas.
Trump, in a speech in front of American allies, also criticized those countries for not paying equitably to support NATO. He said 23 of the 28 member nations "are still not paying what they should be paying," arguing the U.S. carries too heavy a burden for the defense of NATO member nations.
Appeals court strikes down Trump's travel ban, again
A Richmond, Virginia, federal appeals court struck down the latest iteration of Trump's travel ban. The travel ban executive order "drips with religious intolerance, animus and discrimination," the court wrote. The loss for the Trump administration was only the latest legal defeat for the controversial executive order. The American Civil Liberties Union celebrated on Twitter, drawing widespread praise for the victory. Attorney General Jeff Sessions said the Justice Department will seek review in the Supreme Court.
News and insight you cannot miss:
Breaking in Egypt: More than 20 people have been killed by a gunman in an attack on Coptic Christians.
U.S.-led airstrikes in Syria have killed 35 civilians.
Facebook founder Mark Zuckerberg says he supports universal basic income.
A Florida congressman has introduced a bill to make Trump pay for his visits to Mar-a-Lago.