16 summer 2017 TV premiere dates you can't miss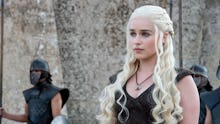 Summer TV is a feast of high drama, campy fun and light romances, but it's sometimes hard to sift through the trash. We've picked out the best shows to look forward to over the coming months.
1. House of Cards — May 30
With Frank Underwood in the presidency, season five will no doubt be an eerie reflection of our current political crisis. Robin Wright teases that season five will have a ripped-from-the-headlines feel, while Kevin Spacey calls the new installment the scariest yet. This could be good or bad: The show could prove too real to be entertaining. 
2. F is For Family — May 30
F is for Family may be animated, but it's certainly not for kids. Bill Burr's series hilarious comedy about the Murphy family is back for a 10-episode second season. This time around Sue is in control as Frank deals with unemployment.
3. Fear the Walking Dead — June 4
Season three of AMC's lighter, less pretentious version of Walking Dead is perfect summer viewing: It's low on political subtext and high on mindless action. With gory character deaths and glorious battle sequences, season three may be the best yet. Also, it's not too late to jump in: Did we mention it's mindless? 
4. I'm Dying Up Here — June 4
Can comedians be funny even when they're not, you know, making jokes? Like Judd Apatow's Funny People and HBO's new Crashing, this Showtime series from executive producer Jim Carrey seeks to answer that question. With a cast including Oscar-winner Melissa Leo, Ari Graynor and Alfred Molina, this '70s-set dramedy will follow the professional and personal lives of several struggling and not-so-struggling comedians.
5. Orange is the New Black — June 9
Season five will chronicle the three very tense days following season four's standoff between the guards and prisoners at Litchfield. Unfolding in what feels like real time, this season promises to grab you and never let go. 
6. Orphan Black — June 10 
Orphan Black has shifted from cult favorite to Emmy-winning phenomenon over its last four seasons, and the BBC drama will no doubt go out on a high note with its fifth and final season. It's not too late to catch up on this twisty, brainy sci-fi spectacle featuring a bravura performance from Tatiana Maslany, who plays almost a dozen different characters.
7. Glow — June 23
Orange is the New Black creator Jenji Kohan may have a new hit on her hands with this Netflix series starring Alison Brie of Community. Glow follows Brie's character, a struggling actress, as she unwittingly joins the wrestling show Glow, aka Gorgeous Ladies of Wrestling, in an attempt to get her life back on track. Comedian Marc Maron stars as the cranky host and creative head of the wrestling show.
8. Gypsy — June 30
Netflix will continue its hot streak this summer with this new drama starring Naomi Watts as a therapist who gets way too involved with her patients. The show was executive produced and partially directed by Fifty Shades of Grey director Sam Taylor-Johnson, so expect it to be equal parts sexy and foreboding. 
9. Game of Thrones — July 16
It's the beginning of the end. With Jon Snow and Daenerys squaring off against the White Walkers — and, presumably, Cersei and Dorne and the Ironborn —season seven will edge us ever so closely to the show's epic conclusion next year.
10. Insecure — July 23
HBO's hilarious cringe comedy is shaping up to have a steamy season two. Issa Rae, star of web-series The Mis-adventures of Awkward Black Girl, promises to deliver even more entertaining racial and social commentary with this summer's new batch of episodes.
11. Midnight, Texas — July 25
NBC may have a network-friendly True Blood on its hands in the form of this supernatural drama based on a series of novels from Charlaine Harris. (Harris also penned the series which inspired True Blood.) Like HBO's campy vampire drama, Midnight, Texas takes place in a small, colorful town that happens to be at the center of a supernatural showdown. 
12. The Sinner — August 2
7th Heaven star Jessica Biel returns to TV in USA's dark limited series about a mother who commits a terrible murder but can't remember why. Pretty actors and devastating twists ... What more could you want from summer TV?
13. Difficult People — August 8
Don't sleep on this Hulu comedy starring real-life comedians Julie Klausner and Billy Eichner as less funny, more self-absorbed — and, yes, much more difficult — versions of themselves. Season two took this story of struggling comic actors to new heights, complete with a Hamilton ripoff about former president Jimmy Carter. Season three will no doubt be just as wacky.
14. The Defenders — August 18
Netflix's long-awaited answer to The Avengers will finally arrive this summer. Although Iron Fist didn't make waves with fans as expected, fans are still clamoring to see Danny Rand team up with Daredevil, Jessica Jones and Luke Cage to save New York City. 
15. The Tick — August 25
With The Tick, Amazon Prime hopes to follow up on the success of Transparent and Man in the High Castle while satirizing the more serious superhero stories of its competitors. (See: The Defenders.) Based on an amusingly self-aware '90s animated show adapted from a comic book character, The Tick stars British actor Patrick Warburton as the titular hero fighting crime in a ridiculous tick suit.  
16. Disjointed - August 25
Have you ever wanted to see Kathy Bates get baked? Your dreams may come true in Netflix's new comedy about a family-run marijuana dispensary. Written by Two and a Half Men creator Chuck Lorre and Daily Show head writer David Javerbaum, Disjointed stars Bates as a matriarch who runs a dispensary — and regularly gets high with her 20-something son. 
Mic has ongoing television coverage. Please follow our main television hub here.