Drinking two cups of coffee a day linked to reduced risk of liver cancer, study finds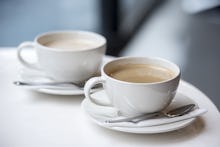 There's good news for coffee drinkers — it turns out that coffee, already shown to have some health benefits when consumed in moderation, may be linked to a decreased risk of liver cancer, according to a new study published in May.
The study, conducted by researchers at the University of Southampton and the University of Edinburgh in the U.K., surveyed data from more than two dozen studies and including 2,272,642 participants to evaluate the relationship between coffee consumption and hepatocellular carcinoma, or HCC, a common type of liver cancer.
Peter Hayes of the University of Edinburgh, one of the study's authors, said the results of the study indicated that coffee reduces both liver cirrhosis and liver cancer.
"Coffee has also been reported to reduce the risk of death from many other causes," Hayes said, according to the Guardian. "Our research adds to the evidence that, in moderation, coffee can be a wonderful natural medicine."
How much coffee do you need to drink to have an effect on your liver cancer risk? 
The researchers found that people who increased their coffee consumption by two cups a day reduced their risk of HCC by 35%.
And when people with pre-existing chronic liver disease drank five cups a day, they halved their risk of HCC compared with people who drank no coffee.
Even drinking decaffeinated coffee was associated with a decreased risk of HCC, although "the benefits of decaffeinated coffee appear to be smaller and less certain" than those of caffeinated coffee, the researchers wrote.
Liver cancer kills 12,000 people a year in the U.S. alone, according to Johns Hopkins. So should we all go out and start chugging coffee? Not quite, according to the researchers behind this new study.
"We're not suggesting that everyone should start drinking five cups of coffee a day though," the study's lead researcher, Oliver Kennedy, of the University of Southampton, said, according to the Guardian.
"There needs to be more investigation into the potential harms of high coffee-caffeine intake, and there is evidence it should be avoided in certain groups such as pregnant women ... Nevertheless, our findings are an important development given the increasing evidence of HCC globally and its poor prognosis."