'Red Dead 2 Redemption' Release Date: Delay won't effect fall sales, GameStop says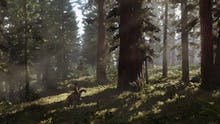 It was announced recently that the Red Dead Redemption 2 release date has been delayed. Instead of launching in fall 2017, as previously promised, the game will now arrive in spring 2018 instead.
Red Dead Redemption 2 release date: What it means for 2017 sales
That might be bad news for the video game industry leading into the 2017 holiday shopping season, but retailer GameStop isn't worried. Company executives recently said that they aren't worried about sales, adding that Red Dead Redemption 2 won't directly impact the rest of its fall lineup.
"When you get a game like Red Dead, or what Red Dead was expected to do in the fall, it's going to suck some dollars away from the other games," the company noted, according to GameSpot
From the sound of it, GameStop seems almost happy about the game being delayed, so that other games will have a chance to thrive.
Red Dead Redemption 2 release date: GameStop is looking forward to E3
In the same GameSpot post, a quote from an unnamed GameStop official hints at some bigs video game news coming next month.
"I also think at E3, you'll see some of the excitement around some of the games that we'll have that will help to share with you why we felt comfortable keeping [guidance] there," they said.
It seems that GameStop might have more information then it's letting on about the upcoming announcements at E3 2017. If there is something coming, it has the potential of being pretty big, especially if the company isn't worried about how the Red Dead Redemption 2 delay will impact its fall sales.
More gaming news and updates
Check out the latest from Mic, including our list of video games that made fun of their players, a personal essay about dealing with anxiety through Breath of the Wild, a look at the racist and sexist experiences in esports and a plea for better character customization options for black characters.