7 songs for the ultimate Memorial Day weekend barbecue playlist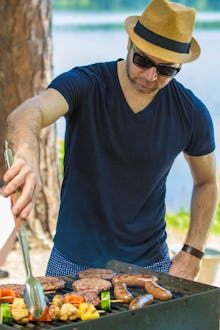 Summer doesn't officially kick off until June 21. But Memorial Day weekend, a time of remembrance for those who died in the armed forces, is also celebrated as the unofficial start of the hottest season of the year. With this weather comes the return of the greatest outdoor activity ever: barbecuing! 
Of course the food is important, but a gathering isn't complete without lively music to complement the occasion. With that said, here are seven upbeat songs released in the past year that should be included on the ultimate Memorial Day weekend barbecue playlist.
1. "Despacito," Luis Fonsi feat. Daddy Yankee and Justin Bieber 
The catchy Latin-pop "Despacito" by Luis Fonsi and Daddy Yankee has an unexpected feature from Justin Bieber. The track, which has lyrics in Spanish and English, is currently the number one song in the country. 
2. "Humble," Kendrick Lamar
Kendrick Lamar's No. 1 hit "Humble" has the hard-hitting keys and uptempo bass that may inspire barbecue guests to get moving.
3. "Shape of You," Ed Sheeran
The light Caribbean-influenced rhythms on Ed Sheeran's "Shape of You" is a win for dancing or singing along.  
4. "Want You Back," Haim
The ultimate Memorial Day barbecue playlist also needs the breezy and snappy jam "Want You Back" by sister trio Haim.
5. "Go On," Snoop Dogg 
Snoop Dogg's "Go On," featuring October London, is a right-on-time ode to the start of summer. Snoop raps about his summer highlights: barbecues, pool parties and playing with his grandson at the park. 
6. "Hard Times," Paramore
Jittery yet vibrant, "Hard Times," is a spunky effort from Paramore's latest album After Laughter and is a fun addition to any party playlist. 
7. "Cranes in the Sky (Kaytranada DJ Edit)," Solange
Producer and DJ Kaytranada created an ambient remix of Solange's feathery "Cranes in the Sky." The result is a groovy mid-tempo vibe perfect to soundtrack the summer event.
Mic has ongoing music coverage. Please follow our music hub here.