Clinton tells Wellesley graduates to persist: "They may even call you a 'nasty woman'"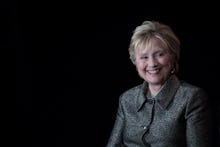 Hillary Clinton is back. 
President Donald Trump's foe in the 2016 election attacked Trump's loose relationship with facts, telling new graduates of her alma mater to stand up to people who "may even call you a 'nasty woman.'"
"You are graduating at a time when there is a full-fledged assault on truth and reason," Clinton said. "Some are even denying things we can see with our own eyes, like the size of crowds."
Early in her speech, Clinton harked back to her time at Wellesley. She said her 1969 graduation from the private, women's liberal arts school occurred after the reelection of "a man whose presidency would eventually end in disgrace with his impeachment for obstruction of justice, after firing the person running the investigation into him at the Department of Justice." 
The line, referring to President Richard Nixon, drew loud cheers from the crowd — and was an unmistakeable reference to Trump's firing of FBI Director James Comey. She also specifically attacked Trump's recent budget proposal, ban on immigration from certain countries and proposed cuts to health care.
"When people in power invent their own facts and attack those who question them, it can mark the beginning of the end of a free society," Clinton told the crowd gathered 17 miles west of Boston. "You didn't create these problems, but you have the power to change them."
Clinton repeatedly referenced the advancement of opportunity for women since she graduated. Women, especially those who graduate from Wellesley, must stand up for their beliefs and "charge" through doors in life to open them, Clinton said. 
"It's often during the dark times you can do the most good."
Clinton also talked about how she has spent her time since losing the election.
"Long walks in the woods, organizing my closet — I won't lie, Chardonnay helped a little too," she said. "What helped most of all: Who I am, where I come from and what I believe."
The former secretary of state was introduced as someone who "has forever changed our sense of what is possible" — and someone who won the popular vote last year, a highlight sure to irk President Donald Trump. She was greeted with a standing ovation. 
One of the student speakers quoted Clinton, saying "it takes a village" to make it through college. 
As Clinton looked on, another speaker talked about her views on acceptance and tolerance. "It's OK to be queer, trans, an immigrant, a person of color, the faithful member of any religion or, like me, the daughter of two Syrian immigrants who worked, and worked, and worked so I could stand on this stage," Tala Nashawati, a 2017 Wellesley graduate, said as the crowd erupted in applause. "Break every glass ceiling that still remains." 
The nostalgia for Wellesley ran thick for Clinton, who noted that "This year, I couldn't think of any place I'd rather be than right here." Clinton ended the speech on a high note: "I'm very optimistic about the future," she said. "Go forth, be great, but first: graduate."