FBI reportedly investigating attempted hack against Trump Organization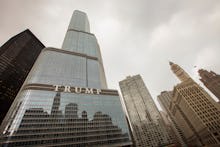 The FBI is reportedly investigating an attempted overseas hack against the Trump Organization, ABC News reported.
As part of the investigation, the FBI met with President Donald Trump's sons, Donald Trump Jr. and Eric Trump, at the FBI's New York headquarters, law enforcement officials confirmed to ABC News. The meeting reportedly took place on May 8, one day before FBI Director James Comey was fired by the president.
During the meeting, the two sons, who run the Trump Organization, were reportedly briefed on a potential hack of the real estate company's computer systems, though it was not disclosed who was suspected to be behind the attack. FBI officials working on the cybersecurity investigation were also spotted at Trump Tower during the week of May 8.
In an interview with ABC News, Eric Trump denied the possibility of a hack, saying, "That's crazy. We weren't hacked, I can tell you that."
If such a cybersecurity breach did take place, retired FBI senior official Richard Frankel told ABC News it would be at the "top of the list" of the FBI's investigations, given the organization's association with the president.
"If the FBI saw that kind of hack, they'd have to track that," Frankel said. "There's no telling what a hacker could get that's connected to the president — corporate records, financial records, even things that were going on during the transition."
Given that the Trump administration is under investigation by the FBI and former FBI Director Robert Mueller, the cybersecurity investigation could prove damaging to the Trump Organization and the administration. If the cybersecurity investigators gained access to the company's computer network, the hacking probe could uncover communications between the Trump Organization and Russia that would prove pertinent to the other ongoing investigations.
"There could be stuff in there that they do not want to become part of a separate criminal investigation," Frankel told ABC News.
In addition to Trump and his associates' alleged Russian ties, Eric and Donald Jr. could have damaging Russian associations of their own, ABC News notes. Author James Dodson told WBUR that Eric Trump said the company's golf courses "have all the funding we need out of Russia" — a statement he denies making — while Donald Trump, Jr. allegedly told investors in 2008 that "Russians make up a pretty disproportionate cross-section of a lot of [the Trump Organization's] assets."