Texas legislators quietly blocked $3 million in funding for victims of sex trafficking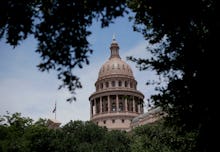 Lawmakers in Texas have decided to kill a plan that would have reallocated $3 million from Gov. Greg Abbott's homeland security budget to fund an initiative to help sex trafficking victims.
According to the Texas Tribune, the plan had initially been approved receiving overwhelming support in the state's House of Representatives in a 113 to 32 vote. But in recent closed-door budget negotiations, House legislators clashed with their colleagues in the Senate whose "spending priorities contained significant differences." 
There had been a lot riding on Hinojosa's budget plan: If it had survived negotiations between the House and Senate, the rerouting of funds would have marked the first time in — at least the Tribune's — "recent memory" that Texas legislators set aside state spending to help trafficking victims. 
"Obviously, I'm disappointed," Rep. Gina Hinojosa, who spearheaded the proposal, told the outlet.
The Tribune reported on the scope of Texas' sex trafficking epidemic back in February, following the stories of multiple teens who became involved in sex trafficking after falling through the cracks of a broken foster care system. 
A now 19-year-old named Mia was coerced into sex work some time in the midst of bouncing among 19 different foster families and foster care institutions, many of which exposed her to physical and sexual abuse. She was later named as the lead plaintiff in a 2014 class-action lawsuit that claimed the state had criminally neglected some 12,000 children in its long-term foster care system to the point of violating their civil rights.
Mia's story isn't unusual for Texas, a state that reportedly houses roughly 80,000 child sex trafficking victims. 
"We'll put all these pimps, all these traffickers in prison, and the word will get out, and people won't be doing this anymore because they'll be too afraid to go to prison," Dallas Police Detective Michael McMurray told the Tribune of his crime-fighting strategy, which he calls the McMurray Theory. "And that'll solve the problem."
The law is on McMurray's side. Since 2009, Texas has passed four different measures aimed at combatting sex trafficking, most recently passing a law allowing police to take suspected sex trafficking victims into "emergency custody" and place them in a facility. That facility, however, doesn't exist because it never received funding.
"I try to be upbeat about the Legislature, every time I come here," Rep. Gene Wu told the Tribune in February. 
"But my little joke is, sometimes the Texas Legislature is like the guy who's really insistent on taking you out to lunch, but when the check comes, he's nowhere to be found."