President Donald Trump issues Ramadan statement, makes it mostly about terrorism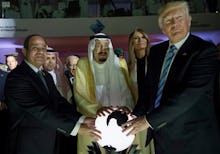 President Donald Trump issued a statement Friday wishing Muslims a "joyful Ramadan," but apparently could not resist peppering it with repeated references to terrorism.
"This year, [Ramadan] begins as the world mourns the innocent victims of barbaric terrorist attacks in the United Kingdom and Egypt," Trump wrote. "America will always stand with our partners against terrorism and the ideology that fuels it."
Read the full statement below:
Trump's statement careens between well wishes for the holiday and tough talk aimed at terrorists and their backers. Muslims observe Ramadan — which marks the first revelation of the Qu'ran to the Prophet Muhammad — by fasting for a month every year. The holiday has nothing to do with violence or terrorism.
Although Trump makes an effort in his statement to separate "the spirit of Ramadan" from the ideologies that fuel terror attacks — like those that killed 22 people in Manchester and 35 in Minya this week — the fact that he could not mention one without the other illustrates how deeply entwined he believes Islam and terrorism are. 
This outlook has long been apparent in his politics. The president has twice tried blocking Muslim immigration to the United States by issuing executive travel bans against several Muslim-majority countries. These orders made good on a statement he issued in Dec. 2015, where he called for a "total and complete shutdown of Muslims entering the [U.S.]," citing concerns about terrorism.
"Islam hates us," he said during a later interview with CNN's Anderson Cooper in March 2016.
Alternately, in his Ramadan statement last year, President Barack Obama took thinly veiled shots at Trump's Islamophobia, asserting his commitment to protecting Muslim Americans' civil rights in the face of the then-candidate's threats.
"I stand firmly with Muslim American communities in rejection of the voices that seek to divide us or limit our religious freedoms or civil rights," Obama said. "I stand committed to safeguarding the civil rights of all Americans no matter their religion or appearance. I stand in celebration of our common humanity and dedication to peace and justice for all."