Texas Governor Greg Abbott makes joke about targeting journalists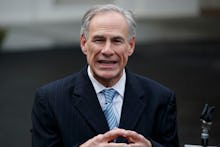 Texas Gov. Greg Abbott joked Friday about targeting reporters — one day after the GOP's newest elected member of the House of Representatives allegedly assaulted a reporter.
Abbott, a Republican, was at a gun range with reporters to celebrate legislation that lowers the cost of obtaining handgun licenses in Texas when he reportedly held up his target sheet and joked, "I'm gonna carry this around in case I see any reporters."
Patrick Svitek, a Texas Tribune reporter who was present at the gun range, confirmed in an email that Abbott was referring to the target sheet he'd just finished shooting at.
The joke was criticized by many for its apparent normalizing of violence against journalists. 
A spokesperson for Abbott did not respond to a request for comment. 
The joke comes during an increasingly hostile political environment for reporters. On Wednesday, Montana representative-elect Greg Gianforte allegedly slammed a Guardian reporter to the ground and repeatedly punched him in the face.
Gianforte, who has been charged with misdemeanor assault, first denied the claims through a spokesperson. After winning the election, GIanforte apologized to the reporter for the assault, saying he "made a mistake."
Former Trump campaign manager Corey Lewandowski also infamously grabbed a reporter last year after the reporter tried to ask then-candidate Donald Trump a question. Trump's presidential campaign was mired with other instances of enmity to reporters — including when Trump called the media "the enemy of the American People," threatened to "open up" libel laws to make it easier to sue news outlets and blacklisted news outlets from attending campaign events in retaliation for negative coverage. Police even arrested a reporter for trying to attend a campaign event after being blacklisted. 
The hostility toward the press has not subsided since Trump's election. 
Last month, Trump's secretary of homeland security, Gen. John Kelly, was caught on a hot mic joking with President Donald Trump to use a saber on the press. 
A reporter from CQ Roll Call was manhandled by FCC security on May 18 for trying to ask a question. Police arrested a journalist on May 9 when the reporter tried to ask Health and Human Services Secretary Tom Price a question. 
Trump also reportedly recommended to former FBI Director James Comey that reporters who publish classified information be jailed.