Trump Approval Rating: President's foreign trip hasn't helped his low poll numbers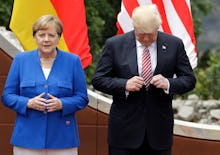 Under a dark cloud of scandal, President Donald Trump departed for his first overseas trip since assuming office.
For two weeks, he'd been battered by a barrage of reports about his administration's ties to Russia and his fitness for office. The White House hoped that his nine-day adventure abroad could provide a reset.
But according to a Gallup poll released Thursday, the foreign trip, which continued Friday at the G7 summit in Italy, hasn't done much to lift Trump's dismal approval numbers.
Trump's approval rating is 39%, according to Gallup — just one point up from the 38% approval he had in the previous two controversy-plagued weeks, and barely above 35% approval he had in March at the lowest point in his term, when the American Health Care Act failed to come up for a vote in the House.
Trump seemed to be riding high after the AHCA passed the House on May 4. Standing with smiling party leaders in the Rose Garden, Trump said the vote brought Republicans together and indicated they would have a "tremendous four years, and maybe more importantly, a tremendous eight years."
But since firing former FBI Director James Comey, who was heading the bureau's investigation into the Trump campaign's potential ties to Russia, it's been nothing but bad news for Trump. Reports suggesting Trump attempted to interfere with the FBI investigation — which now includes his senior adviser and son-in-law Jared Kushner — have emerged on a near daily basis, and have raised the specter of impeachment. 
As the administration attempts to deal with the fallout from Comey's firing, revelations that Trump shared classified information with Russian officials during a White House meeting have intensified questions about Trump's fitness for office. 
Advisers reportedly fear leaving Trump alone in the company of foreign leaders for fear of what he might say, and aides struggled to keep an easily distracted Trump focused as they attempted to prepare him for his five-country overseas excursion. 
In the midst of all the chaos, poll after poll has shown Trump's approval slumping. The trip — during which it appeared he pushed a fellow NATO leader out of the way, and reportedly expressed skepticism about the European Union because of how difficult it was for him to set up golf courses in Europe — does not appear to have helped him much, according to Gallup. 
Still, not all the news is bad for Trump. On Thursday, he found a Rasmussen poll that suggested he'd rebounded to 48% approval — and made sure to let everyone know.