Ethereum vs. bitcoin: Price, how to buy and why this new virtual currency is exploding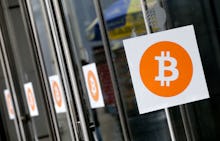 There's a growing interest in cryptocurrency. The biggest player in the market is bitcoin, but there's another virtual currency that is gaining momentum: Ethereum. The two share some similarities — including the fact that they've had record weeks in value — but there are some crucial factors that separate the two digital currencies. 
What is bitcoin? 
Bitcoin is a type of digital decentralized currency that can be used to make purchases, just like traditional currency. The only difference is there's no actual physical money to carry in your pockets.
Bitcoin is not affiliated with any government or central banks, Business Insider reports. Instead, it's built on blockchain — a network that logs every transaction in one place. Bitcoin is supposed to be cheaper, more reliable and a quicker form of currency than localized money that is tried to a nation. You can buy and sell bitcoins through online platforms like Coinbase or LocalBitcoins.
How secure is bitcoin? 
Each bitcoin has an ID associated with it, which is a hexadecimal code. It's much harder to steal the bitcoin than a person's credit card information. The only caveat: when there's fraudulent activity on your credit card, the chargers are reversible, but with bitcoin, it's permanent.
Is there any endless supply of bitcoin?
There's also a limited number of bitcoins available: 21 million. And not all of them are released yet — 94% are believed to be released by 2024. Due to the way bitcoins are set up, they will never undergo inflation.
How much is bitcoin worth? 
The value of bitcoin is volatile, to say the least. The currency saw a rise in 2013, only to plummet in 2015. This year, bitcoin's price keeps breaking records. On Thursday, it reached a record high by reaching over $2,700 for the first time. Vox reports that speculation and growing demand in Asian markets are causing value to increase.
What is Ethereum? 
Ethereum, created by Vitalik Buterin, is the second largest cryptocurrency in the world. The currency is called ether and it is organized on a blockchain, similar to bitcoin, and all transactions are publicly logged. It's also decentralized without government intervention.
How is Ethereum different from bitcoin?
Simply put, Ethereum offers more than a digital currency. Vox calls it a "virtual computing platform" and, according to the New York Times, Ethereum software "provides a way to create online markets and programmable transactions known as smart contracts." According to Amanda Gutterman, CMO at ConsenSys, while the cryptocurrency that fuels Ethereum is ether, the computing platform — Turing complete — is unique in its ability to allow for smart contracts.
"At the core bitcoin is a vehicle for transferring and storing value that started with experiment in monetary theory," Gutterman told Mic. "Ethereum is a world computer — a decentralized computing platform the same way Linux is a computing platform and Mac OS is a computing platform."
Is there any endless supply of Ethereum?
Like bitcoin, there's a finite supply of ether. The currency is capped at 18 million ether per year, according to Ethereum's website. It can be purchased using Circle or Coinbase.
How secure is Ethereum? 
The New York Times reports that Ethereum will be exposed to more security issues because it's a more complicated software. That said, so far Ethereum has had fewer attacks than bitcoin.
How much is Ethereum worth? 
The currency traded at a record high on Wednesday at $227.26, which was a 2,747.9% rises, reports CNBC. As of Friday morning, it was trading at roughly $191.78.