'Overwatch' Anniversary Loot Boxes: Blizzard responds to negative feedback on prices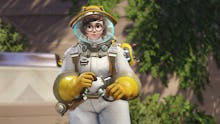 Once the Overwatch Anniversary event began Tuesday, several fans were quick to point out that collecting all its skins and emotes was an overwhelming, if not impossible task — but Blizzard said it's listening to the feedback.
Unfortunately, it sounds like improvements to the loot-box system are relatively far on the horizon. Overwatch director Jeff Kaplan said he didn't have any "immediate action items to report," but did add that the community's suggestions have been "helpful." 
Some Overwatch fans are unhappy with the costs of Anniversary items
Every Overwatch event is marked by the infusion of a new set of cosmetic items — skins, emotes, sprays and the like — for a limited time. But this time around, some Overwatch fans were disheartened by the extremely pricey legendary skins and dance emotes, which cost 3,000 coins and 750 coins when purchased individually, respectively.
In fact, /r/Overwatch calculated it would cost someone 56,475 coins to purchase every item from the Overwatch Anniversary. To give you an idea of how expensive that is, the next priciest event was Year of the Rooster, whose items cost a total of 37,050 coins when purchased individually.
And it's not just the prices of items that are upsetting fans, it's also the inconsistent ways in which Blizzard categorizes those items. For example, Blizzard seemed to have tacitly established that any kind of item every character has — like the sitting and dance emotes — would be priced normally and appear in standard loot boxes. But then, the dance emotes — again, which every character has — were categorized as event-only items, which means they cost triple the price and can only be unlocked for a few weeks.
For some, this felt like an empty cash grab, like Blizzard's need to pad its event with exclusive items got in the way of adhering to the the pricing structure fans had come to expect.
Blizzard acknowledges Anniversary criticism
In a post on the Overwatch forums, director Jeff Kaplan responded to the criticism and wanted to let fans know they'd been heard.
"The feedback and suggestions have been helpful to us," Kaplan said. "We had a really great discussion yesterday about the feedback we've been hearing this week. While I don't have any immediate action items to report, I thought it was important for you to know that we are listening."
This kind of a response from most game developers might ring hollow, but Blizzard has a pretty good track record of adapting to player requests, especially when it comes to Overwatch. So, it'll be interesting to see if Blizzard will change course and add those dance emotes to standard loot boxes, discount them or simply change the way it handles these items moving forward.
For now, though, you'll just have to hope you unlock one of the Anniversary skins or dance emotes ASAP  — because they'll be going back into the vault once the event ends June 12.
More Overwatch news and updates
For more on Overwatch, check out the rest of what Mic has to offer. Here is an essay about how Efi Oladele was a missed opportunity for Overwatch, a deep dive into the issue of sexual harassment in Overwatch voice chat, an unintentionally hilarious infographic showing the most popular Overwatch characters in each state, a criticism of Blizzard's failures in its design of Symmetra and a dive into a cool trend on Tumblr that converts your most-played heroes into a psychedelic illustration.