'Fear the Walking Dead' Season 3 Spoilers: Everything we know about the new episodes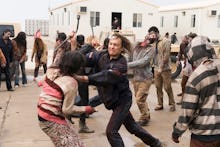 It's time to start preparing for the zombie apocalypse. Fear the Walking Dead, the companion series to The Walking Dead, returns to AMC for its third season on Sunday, June 4. 
Things were looking pretty grim for the group when fans last saw them in season two. Nick and Luciana were separated from the people of the Colonia as their attempt to find a new home backfired. Madison, Alicia and Travis were forced to leave the safety of the hotel, and Ofelia was captured by what appeared to be a Border Patrol agent after crossing back into the United States.
Where will things go in season three? Let's break down what we know about the new episodes: 
The two-hour season premiere
Fear the Walking Dead will waste no time jumping back into the drama. The season three premiere will feature back-to-back episodes titled "Eye of the Beholder" and "The New Frontier." Check out the synopsis for episode one:
The Clark family find themselves in a dire predicament. They must work together to discover a path to safety.
Strand is back
Season two ended with Strand parting ways with Madison, Alicia and Travis at the hotel. But don't worry, that's not the last we'll be seeing of Colman Domingo's character. Promo photos reveal that Strand will still be a major player on screen. The question now is whether he'll ever reunite with his friends. 
Meet the Ottos
Besides bringing back some familiar faces, Fear the Walking Dead will also be introducing some newcomers. Madison, Alicia and Travis will be seeking shelter at a ranch run by Jeremiah Otto, played by Dayton Callie, and his son Troy, played by Daniel Sharman.
Are the Ottos friend or foe? Showrunner Dave Erickson told TV Line the new group at the ranch are "incredibly dangerous and incredibly violent."
A little Buffy the Vampire Slayer star power
Another new face joining the series is Emma Caulfield of Buffy the Vampire Slayer fame. Caulfield's involvement in the series is being kept under wraps for now. There are no details on her character or how large of a role she'll have in season three.
Fear the Walking Dead season three premieres on AMC on Sunday, June 4 at 9 p.m. Eastern and will be followed by a brand new episode of Talking Dead.
Mic has ongoing Fear the Walking Dead coverage. Check out our main Fear the Walking Dead hub here.