United Airlines just apologized for accusing a gay father of groping his child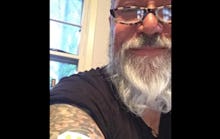 In a statement provided to a CNN affiliate, United Airlines issued a formal apology to the family of Henry Amador-Batten, a 53-year-old gay father whom United flight attendants accused of fondling his child on the family's flight home to North Carolina.
"Our customers should always be treated with the utmost respect," the statement said. "We have followed up with the customers directly and we apologized for the situation."
According to CNN, police officers for the Raleigh-Durham airport interrogated Amador-Batten on his Saturday flight from Newark, New Jersey, after United flight attendants, apparently unaware that the two were family, notified the authorities that they witnessed a man on their flight resting his hands "near the genitals" of a little boy.
Upon questioning, Amador-Batten told airport police that he kept his hand on his son's lap to assuage the child's fears of flying.
Though the police report states that the United flight attendant's complaint against Amador-Batten was closed in 45 minutes, Amador-Batten's case against United Airlines was just beginning. In a series of Facebook posts using the hashtag #DividedByUnited, the aggrieved father and his husband, Joel, decried United for making Henry feel "like a criminal."
"Tonight my husband was detained after disembarking a United flight to RDU because a member of the flight crew made an accusation that my husband's hand/arm laying across my sleeping son's lap was too close to the 'child's genitals,'" Joel Amador-Batten posted on Saturday in the Facebook page for DADSquared, the gay parenting blog he runs with his husband, "This is not how anyone deserves to be treated."
According to CNN, the Amador-Batten family is considering filing a lawsuit against United.
"Gay men and women are consistently at the end of this type of inappropriate conclusion jumping and behavior by other people, and it can't be tolerated by other companies," Kenneth Padowitz, an attorney for the Amador-Batten family, told CNN, "He felt absolutely mortified. He was humiliated in front of his son. This is just outrageous conduct. It's not okay, and the flying public is sick and tired of being treated like this by airlines."
The Amador-Batten incident is the latest public relations nightmare for the company following a particularly turbulent April, when multiple videos appeared to show Dr. David Dao, a United passenger, being violently removed from his flight after refusing to voluntarily give up his seat to make room for United's staff. 
The videos quickly went viral, sparking a massive public backlash and "briefly knocking $800 million off United's market capitalization," Mic previously reported.