James Comey acted to protect the email inquiry based on information he knew was false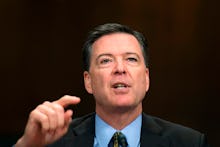 FBI Director James Comey knew information he had about Hillary Clinton's email server was false — but he acted on it anyway, according to a CNN report published Friday.
The intelligence Comey knew was fake purported to show emails that said Attorney General Loretta Lynch would stop the email server investigation. That information was false and created by Russians to dupe American investigators. The intelligence document's existence was first reported on Wednesday.
Despite knowing the document was false, Comey used it to bypass Lynch, declare the investigation over and call Clinton's handling of the server "extremely careless." 
CNN reported Comey's larger concern was that if the alleged conversations between Lynch and the campaign were released publicly, their impact would undermine his probe and the Justice department — despite the allegations being false. 
The then-FBI director, who Trump recently fired, was reportedly worried Russians would leak the document if he did not end the probe into the server. By holding a press conference and keeping Lynch out of the process, Comey reasoned, he could preserve the integrity of the investigation and mute any impact from the false Russian intelligence.
As CNN wrote, that this information influenced Comey's decision-making demonstrates how Russians were able to impact high-ranking U.S. officials. 
Comey had planned to testify before a Senate committee next week, but is now waiting to meet with Robert Mueller, the former FBI director who was appointed as special counsel to investigate Trump-Russia ties. The FBI announced Thursday it would not immediately provide Comey's memos about meetings with Trump to inquiring members of Congress.