'Super Mega Baseball 2' Release Date: New trailer and information revealed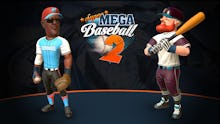 On Friday, Metalhead Software released a new trailer for Super Mega Baseball 2 highlighting the improved artwork and revealing the release month for the upcoming game.
According to the trailer, which you can see below, SMB2 is scheduled to release in September on PlayStation 4, Xbox One and PC.
As was the case in the original: Customization, fun, strategy and over-the-top characters look to be the lifeblood of SMB2.
The differences between female and male characters are more pronounced in the sequel, and the stadium renders are far more grandiose, but also realistic with the new lighting.
The first Super Mega Baseball was critically acclaimed, receiving an 85 Metacritic score, creating a hearty buzz and anticipation for the sequel — this holds especially true for Xbox One-owning baseball fans.
With Sony's MLB The Show being a PlayStation exclusive, SMB 2 is the closest Xbox One fans will get to a simulation-style baseball game.
So, any Xbox One owners who are jonesing for virtual diamond action: You'll just have to wait a few more months. 
More sports gaming news and updates
Love sports games? Check out more content from Mic, including tips for leveling up your NBA 2K17 MyPlayer, playing quarterback in Madden 17, our review of MLB the Show 17 and the classic Nintendo sports games we want to see on the Switch.