Florida Gov. Rick Scott is putting an end to the state's tampon tax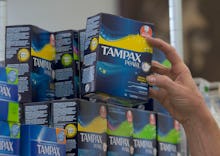 Florida became the 13th state to eliminate its tampon tax on Thursday, when Gov. Rick Scott signed away the tax as part of a $180 million tax cut plan. The measure will go into effect January 2018. 
"This common sense legislation will result in a tax savings for women all over the state who purchase these necessary products," Sen. Kathleen Passidomo, who spearheaded the legislation, told the Associated Press. 
The tax savings Passidomo mentioned is no pocket change, either: In New York, at least, Gov. Andrew Cuomo's tampon tax ban is expected to save women some $10 million a year. And feminine hygiene is just one industry that disproportionately gouges women, making it more expensive across the board to buy products marketed for women. All things considered, slashing taxes on biologically necessary products is the least legislators could do.
As other states gradually hop aboard the anti-tampon tax train, some legislators are looking for ways to offset the costs.
In March, California lawmakers proposed taxing liquor in lieu of menstrual products in a bill called Common Cents Tax Reform. California State Assemblywoman Cristina Garcia drafted the legislation to appeal to Gov. Jerry Brown, who vetoed a 2016 bill seeking to eliminate the tax because he said it would be "the same as new spending."
"Liquor is a choice and a luxury, and human biology is not," Garcia said at the time. "There is no happy hour for menstruation. Our tax code needs to reflect the fact that it's not OK to tax women for being born women. ... It's bad enough already being underpaid, undervalued and underappreciated."
Correction: May 30, 2017