Ariana Grande breaks silence on Manchester attack: "We won't let hate win"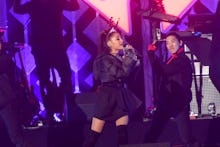 Pop star Ariana Grande released a statement on the deadly bombing that occurred at her concert on Monday night at Manchester Arena in Manchester, England, telling the families of the victims, "We will not quit or operate in fear."
"There is nothing I or anyone can do to take away the pain you are feeling or to make this better," Grande wrote in a statement posted to Twitter on Friday. "However, I extend my hand and heart and everything I possibly can give to you and yours, should you want or need my help in any way."
On Monday night, a suicide bomber detonated explosives in the middle of the packed crowd just as the concert drew to a close. The blast killed 22 and injured dozens more, and sent hundreds of Grande's mostly young and mostly female fans streaming frantically out of the venue.
The Islamic State group subsequently claimed responsibility for the attack.
In the immediate aftermath of the violence, Grande had remained largely quiet on social media, save for one brief message addressed to fans.
"Broken. from the bottom of my heart, i am so so sorry. i don't have words," she wrote in a tweet on Monday night.
Grande also announced Friday she would return to Manchester to perform a benefit concert for the victims of the attack, and posted a link to a British Red Cross-partnered JustGiving account that fans could use to donate to the families of those killed or injured.