The 5 essential shopping hacks to know to save money and pay less for everything you buy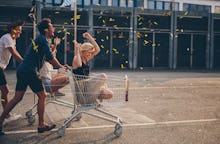 Tired of feeling like you don't have enough cash to buy everything that you want and still meet your savings goals? Wish you could spend a little less for the items you buy? You're in luck. And you don't even have to memorize a million rules for saving money.
With a few very core, simple shopping hacks, you can spend hundreds of dollars less on lots of products — and leave more money in your pocket.
Some easy, basic changes to the way you shop will let you watch the savings add up fast. Here are the most important five rules to follow — ranked from beginner- to expert-level.
5. Learn this one easy formula
Difficulty level: Easy
One of the biggest mistakes buyers often make is not considering the long-term or ongoing expenses associated with their purchases. One smart move: Always annualize. If you are paying for a mattress over many monthly installments, multiply by 12 to estimate your real annual spending. If you've added a new weekly indulgence — like a date night, shoe shine or manicure? Multiply by 50 to ballpark a true yearly cost.
(Pro-tip for math haters: You can make estimates easily in your head if you just multiply by 10 and round up for monthly costs — or multiply by 100 and divide by two for weekly ones.)
Another big mistake that comes from not doing the multiplying: foregoing around a 30% discount on every item you buy. How do you forego such discounts? By financing purchases on a store card, which likely has around a 27.99% interest rate, and then just paying the "minimum." If you buy $200 worth of clothes or video games, for example, and you make minimum payments of $15 a month on the card, you'll pay $242.36 for the purchase.
That's bad math. If you skip the financing and pay in cash, you'll save yourself that interest you'd have spent by paying off the item over time.
Even if you always pay your card in full, you could be losing out. Many of the items you'll buy will require you to keep making purchases over and over in order to use them. Keurig machines are a great example of this — you pay around $100 upfront, but then have to keep spending on those little capsules. While this may still be cheaper than buying coffee at a shop, it costs a lot more over time — around $400 a year if you drink three cups a day — compared to using an old-fashioned $12.99 coffee maker and buying ground coffee to brew.  
4. Take three minutes to comparison shop
Difficulty level: Easy
Price differences between stores can be substantial. Take for instance the cost of a Samsung 46" TV, which you could find refurbished from Overstock for as low as $327 with free shipping; that same TV would cost you $521 for a brand new model from Home Depot.
But how do you know when you are getting a good deal? You can use Honey, a browser plug-in, to automatically find discounts and can use sites like Google Shopping and Price Grabber to check the total costs of purchases to make sure you're not overpaying for the items you buy.
If you're shopping local, pick your stores strategically by referencing guides to the best place to buy items to find out where to get jeans (the Gap, for $20 or less), outerwear (Nordstrom's Rack for 40% off), toilet paper (Costco for $0.01 per square foot) and more. You can also use apps like Basket to help you find the best prices on groceries or try out Shop Savvy, which lets you scan barcodes to compare.
Lastly, ignoring price labels and looking at the "unit price" on items will ensure that you don't get tricked by marketers, who manipulate the shape and size of packaging to get you to overspend. Instead, you'll get the true best deal.
3. Check here for coupons and other deals
Difficulty level: Easy to intermediate
Both online and local stores regularly offer coupons to save on purchases. There's no reason not to look for them before you buy. Sources like RetailMeNot and Money Saving Mom make it easy to find coupons for local stores and for websites. 
Right now, you could save 20% from Bed Bath and Beyond, get $5 off a $50 Target purchase or save 10% off your entire purchase from Overstock.com. A percentage sale on a big purchase, such as furniture, could add up to substantial savings. Saving 10% off a bed that costs more than $800 would mean a savings of at least $80.
Check out Mic's guide to coupon and deal sites for more tips on that front.
2. Always buy one season "ahead"
Difficulty level: Intermediate
Both big and small items go on sale on a regular schedule. This requires a little planning, but you could save 50% on fitness equipment by buying during January sales, or up to 90% off bikes and other biking gear by buying in June, for example. 
Knowing the sales cycle could even help with small purchases like groceries. Most stores have a 6-week rotation for sales, so if you buy enough to last until the next deal, you could potentially avoid ever having to pay full price.
And if buying stuff during specific months of the year requires too much more advanced planning than you're up for, how about shopping on specific days of the week to slash your spending?
You could save an average of 6% by buying wine on a Tuesday instead of a Saturday, for example, or save yourself 9% by buying beer on Monday instead of Saturday. (Just don't drink it all before the weekend.)
1. Sweet-talk every salesperson you meet
Difficulty level: Expert
Most people know they can haggle on the purchase of a new car or a new house, but these big-ticket buys are definitely not the only things that you should be asking for a deal on. "Just by asking for a discount, I almost never pay the sticker price for anything," Nora Dunn wrote at Wise Bread. "Car insurance and repairs, clothing, airfare, hotels, all sorts of services from hair cuts to tax preparation, and sometimes even groceries."
Most store managers can discount the price by as much as 15% on items you buy every day; this can add up to big savings. Try asking for discounts by pointing out small flaws in items you're buying, such as a purse with stitching that isn't straight or that has a small dirt spot on the bottom. 
Now, really getting a great deal may require some extra tact — and homework ahead of time. You could also show the store manager that a competitor is selling the item for less. Many major retailers have price-matching policies and may even be willing to beat competitor pricing.
Finally, if you ever feel like you have overpaid for a product or service? Here's the secret to getting your money back — and more — by complaining.
Sign up for The Payoff — your weekly crash course on how to live your best financial life. Additionally, for all your burning money questions, check out Mic's credit, savings, career, investing and health care hubs for more information — that pays off.