'F is for Family' Season 2 Release Time: When to watch new episodes on Netflix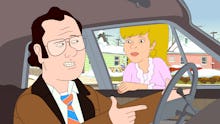 For those who loved the first season of Netflix's animated sitcom F is for Family, you're in luck. Season two, which drops May 30, will feature 10 more episodes of expletive-laden insights into the human condition. 
What can we expect from season 2?
Season one of F is for Family received critical praise for its dark, amusing observations on the sunny topic of emotional abuse. Co-created by Simpsons writer Michael Price and comedian Bill Burr, F is for Family will bring more of the same in season two, with the Murphy family struggling through a difficult winter in 1974. While patriarch Frank, voiced by Burr, is unemployed, his wife Sue must assume a breadwinner role. 
"I'm not working, that means I'm not a man," Frank says in the season two trailer. 
Season two will bring back season one's voice cast including Laura Dern and Justin Long.
What time will season 2 premiere on Netflix?
Netflix subscribers can catch the new season of F is for Family when season two airs Tuesday at 12 a.m. Pacific and 3 a.m. Eastern. The season is available to watch on any Netflix-compatible device.
Check out a trailer for season two below.
Mic has ongoing Netflix coverage. Check out our main Netflix hub here.