'Lego Marvel Super Heroes 2' Trailer and Release Date: New characters and Avengers return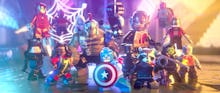 The full-length trailer for Lego Marvel Super Heroes 2 — releasing Nov. 14 for PS4, Xbox One, Nintendo Switch and PC — is here. In addition to unveiling the release date, the trailer also revealed a good chunk of the game's final character roster.
Lego Marvel Super Heroes 2 trailer
Good news: It looks like Lego Marvel Super Heroes 2 will heavily feature everyone's favorite characters from Guardians of the Galaxy Vol. 2: Rocket Raccoon and Baby Groot.
And, for those of you who are fans of Marvel comics, this game looks like it will also feature Spider-Gwen and Kamala Khan, Marvel's first female Muslim-American hero.
It remains to be seen whether Lego Marvel Super Heroes 2 will be able to recapture the magic of its predecessor, or if it'll be doomed for a repeat of the more tepid critical feedback of Lego Marvel's Avengers.
Either way, we'll be keeping our eye out for more information on Lego Marvel Super Heroes 2 as that Nov. 14 release date draws near. 
More gaming news and updates
Check out the latest from Mic, including our list of video games that made fun of their players, a personal essay about dealing with anxiety through Breath of the Wild, a look at the racist and sexist experiences in esports and a plea for better character customization options for black characters.