'Injustice 2' Patch Notes: What's new in the 1.03 update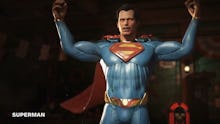 Injustice 2 has received its first post-launch update. Today's patch notes were for update 1.03. Oddly, the day one patch, released on May 16, was 1.02, and the review copies were version 1.01 — so we're not entirely sure what happened with Injustice 2 1.0.
Unfortunately, Injustice 2's latest update doesn't contain a whole lot of changes. Patch 1.03 only fixes one major issue, so if you wanted huge buffs or nerfs for the fighters, you're going to have to wait.
Injustice 2 1.03 Update: What's changed?
Injustice 2 patch 1.03 only weights in at around 100MB. The only major problem it fixed was one issue for story mode where fight music would play over cutscenes when retrying a fight.  
Whatever else the patch did is a mystery. Aside from the music issue, the notes only mention "minor fixes and stability improvements." Players are reporting that there are still issues with level 20 unlocks, so you can likely expect another patch to solve that issue shortly.
More gaming news and updates
Check out the latest from Mic, including our list of video games that made fun of their players, a personal essay about dealing with anxiety through Breath of the Wild, a look at the racist and sexist experiences in esports and a plea for better character customization options for black characters.