Rex Tillerson won't host a single Ramadan event at State, breaking a 20-year tradition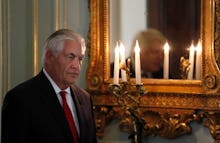 Secretary of State Rex Tillerson won't host a State Department event to mark the holy month of Ramadan, Reuters reported Friday.
It's one of the only times in nearly 20 years that the sitting secretary of state won't host an event marking the Islamic religious event, according to Reuters.
Usually, secretaries of state host either an Iftar dinner, which breaks the fast that Muslims undergo each day of the month of Ramadan, or a reception for Eid al-Fitr at the end of the month.
Reuters report comes the same day President Donald Trump issued a statement marking the beginning of Ramadan that made repeated references to terrorism and terrorist attacks.
"This year, [Ramadan] begins as the world mourns the innocent victims of barbaric terrorist attacks in the United Kingdom and Egypt," Trump wrote. "America will always stand with our partners against terrorism and the ideology that fuels it."