Hundreds of Muslims marched to Manchester Arena to denounce bombing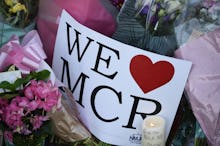 Hundreds of Muslims filled the streets of Manchester, England, on their way to Manchester Arena on Friday to denounce the bombing carried out on Monday during an Ariana Grande concert, the Manchester Evening News reported. The bombing killed 22 people, including many young women and girls. 
The march, organized by the North Manchester Jamia Mosque, featured children and adults holding signs saying, "We Love Manchester," as well as brightly-colored balloons. They walked from the mosque to Manchester Arena. 
In a Facebook Live video taken at the scene by Manchester Evening News, Imam Arshad Misbahi said, "We believe this is totally and completely not only against the teachings of humanity, but also against the teachings of Islam." 
According to the Evening News, about 500 people participated in the three-mile march, which ended in a vigil held outside the arena. 
The mosque posted a video of the full walk on Facebook. 
Moin Azmi, a mosque spokesman, told the Evening News that the march was meant to help the mosque's children, who have been particularly upset by the attack. 
"The children were more upset this time because other children had been killed," he said. "Children were killed when they should have been having fun."
He added, "That's the image we want to show — that we are a part of society campaigning against the terrorist." 
People left loving comments under the Evening News's Facebook post. 
"Absolute 100% respect to these parents and kiddies," one person wrote. "For all those who are absolutely clueless, this is what true Muslim faith is. We're all united!" 
"Respect to them showing the true face of Manchester's Muslim community," another person wrote.
North Manchester Jamia Mosque did not immediately respond to Mic's request for comment. 
Images and video of the march also circulated on social media. 
Five suspects have so far been arrested in association with Monday's suicide bombing. ISIS claimed responsibility for the attack. 
The day after the attack, roughly seven miles from Manchester, an unidentified person set fire to a local mosque.