Trump announces on Twitter he'll make final decision on Paris climate deal next week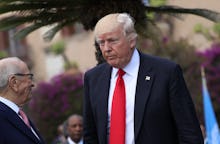 On Saturday morning, via a tweet, President Donald Trump announced that he will decide next week whether the United States will remain a part of the Paris Agreement on Climate Change. 
"I will make my final decision on the Paris Accord next week!" Trump wrote. 
The non-binding Paris agreement, signed by more than 160 countries, saw heads of state come together to find a way to make sure that the global temperature does not rise by more than 2 degrees in the next 100 years. 
Trump makes his announcement on the final day of his first international trip, according to the Associated Press. During his trip, international leaders have attempted to convince Trump to stay in the Paris deal. According to Politico, Trump's reluctance to commit to the deal makes the U.S. the lone wolf among those who originally signed the accord. The final declaration from the G7 summit, which Trump attended, said the U.S. is "not in a position to join consensus" on climate change.
Trump himself has called climate change a "Chinese hoax," and said that "nobody really knows" if it's real. The Trump administration has already taken steps to change America's environmental policy, including a rollback of former President Barack Obama's Clean Power Plan, which set out to reduce U.S. carbon emissions. Trump has also reportedly banned the energy department's climate office from using the words "climate change."  
A March report showed that, so far, of the many European countries that signed the Paris agreement, only France, Germany and Sweden are pursuing the goals they laid out to tackle climate change.