Trump blocks attempts by Italy to address Mediterranean migrant crisis at G7 summit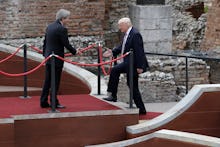 Italian Prime Minister Paolo Gentiloni called for "partnership" between G7 nations and Africa in addressing a massive refugee crisis during a speech Saturday. 
President Donald Trump reportedly didn't get the message — literally.
According to the Telegraph, Trump did not wear headphones to listen to the translation of Gentiloni's address, and at one point appeared to have his eyes closed.
The incident underscored Gentiloni's attempt this week to focus the G7 summit on the more than 50,000 migrants rescued at sea en route to Italy — and Trump's unwillingness to do so. 
According to Reuters, Gentiloni had hoped to "open up more legal channels for immigration to try to slow the flow of people risking their lives to reach Europe on flimsy boats from lawless Libya."
But he faced "strong opposition" from Trump, who has been a hardliner against immigrants and refugees, and British Prime Minister Theresa May, who has sought to cut migration.
"There was very strong opposition by the Americans and British who wanted to refocus on security and water down the expansive language on freedom of movement," a European diplomat told Reuters. 
Italy has seen a surge in migrants crossing the Mediterranean Sea from Africa — mostly from war-ravaged Libya. More than 1,500 refugees have died attempting to make the perilous journey so far this year, according to the Independent, and Italy reportedly received more than 4,500 migrants just in the week that it hosted the G7 summit. 
According to Foreign Policy, Gentiloni pressed Trump ahead of the summit to settle more migrants in the United States and provide financial support for Italy's migrant sea rescue operations, which may cost the country 4.6 billion Euros by the end of 2017. 
While it isn't clear how Trump responded to the prime minister's request, his administration has mostly blocked Italian efforts to discuss resettling refugees into permanent homes, instead focusing on terrorism and security issues. 
Instrumental in blocking the Italian migrant discussions, Foreign Policy reports, has been Stephen Miller — the senior adviser who wrote Trump's "American carnage" inauguration speech and helped craft his first Muslim ban. 
A section on "human mobility" was included in the G7 communique, with the short document reading that leaders recognize the issue requires "both an emergency approach and a long-term one."
But it doesn't yet appear clear what those approaches will be.
In an April meeting between the two leaders at the White House, Trump and Gentiloni appeared to differ on what the U.S. role in Libya should be. Gentiloni said the U.S. role in the country was "critical," but moments later Trump said that the U.S. has "enough roles" and should not be involved in the country. 
The G7 summit was held in Taormina, Sicily — which has a "front-row seat" to the refugee crisis.