Portland MAX stabbing: Suspect who killed two men defending Muslim women in custody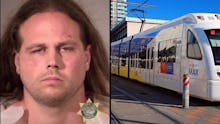 Portland police have taken 35-year-old Jeremy Joseph Christian into custody following the stabbing and killing of two people on Portland MAX, a light rail public transit system, on Friday night. He is being held without bail and faces several charges, including aggravated murder, attempted murder and intimidation in the second degree. 
According to KATU, Christian began to insult two Muslim women on the train, one of whom was wearing a hijab. When two men came forward to defend the women, the suspect slashed their throats. 
One witness, Evelin Hernandez, told KATU that the suspect said, "Get off the bus, and get out of the country because you don't pay taxes here" and that he didn't like Muslims because they're "criminals." 
The two women left the scene and police are still looking to speak to them. 
According to the city's website, one adult male died at the scene, while two were brought to a nearby Portland hospital where one was pronounced dead and another treated for injuries. 
In a statement to KATU, city commissioner Chloe Eudaly said the city has a "heavy heart" after the incident and that the city sends "thoughts and prayers" to the families of those who died. She called the incident "especially sad and disturbing" because it involved killing people who stood up to hate. 
"These are troubling times across our city, our country and the world," Eudaly said. "We cannot let this divide us. We need to unite against all forms of violence and hate. Our differences should be a cause for celebration, not something that foments hate." 
According to the city government, the Oregon State Medical Examiner will conduct autopsies late Saturday morning. After the autopsies, authorities will release the names of the deceased to the public.