London flights canceled due to British Airways "major IT system failure"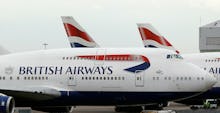 A systems outage forced the cancelation of all British Airways flights from London's Heathrow and Gatwick airports on Saturday, in the middle of the country's busy spring break weekend.
"Following a major IT system failure this morning, we've canceled all flights to and from Heathrow and Gatwick for the rest of today," the airline tweeted. "We're working hard to get anyone due to fly today, onto the next available flights. Those unable to fly, will be offered a full refund."
A "global computer system failure" is being blamed for the cancelations. Officials have said there is "no evidence" of a cyberattack, according to Reuters. 
Passengers faced long boarding lines, according to reports, and planes sat stuck on runways.
A journalist tweeted that he was on board one of the flights stuck at Heathrow, writing that the captain had described the system failure as "catastrophic."
A "computer system breakdown" hit Lufthansa and Air France in late April, but passengers were able to board after the issue was quickly resolved.
Heathrow and Gatwick, London's two largest airports, each tweeted about the cancelations.
In a statement, Heathrow Airport advised customers with flights scheduled for Saturday to not come to the airport, and those with flights Sunday to check the status before coming to the airport. Additionally, Heathrow said that it had extra customer service representatives assisting those passengers already there, providing water, snacks and meal vouchers to those impacted — as well as free travel to nearby Paddington.
"Most long-haul flights due to land in London tomorrow are expected to arrive as normal, and we are working to restore our services from tomorrow, although some delays and disruption may continue into Sunday," British Airways said, according to Reuters. "We are extremely sorry for the inconvenience this is causing our customers during this busy holiday period."