Senior PGA Championship raises questions about Trump profiting off presidency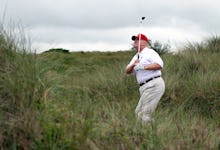 The shadow of President Donald Trump has loomed over the Senior PGA Championship this weekend.
The tournament — one of five majors on the Senior Tour — finishes up at Trump National Golf Club in Virginia, just outside of Washington, D.C., on Sunday. 
As top players age 50 and over competed for the Alfred S. Bourne Trophy, questions buzzed about whether the tournament was another example of Trump potentially profiting from his office.
"It's the greatest marketing in the world," first son Eric Trump told the Washington Post of coverage of the tournament, where several players are wearing Trump-brand gear.
While it's unclear if Trump is earning anything from ticket revenue, according to the Post, his company "stands to gain positive publicity" from hosting the event. It also serves as a reminder, the Post reported, of the complex web of business interests that Trump has failed to divorce himself from since taking office — despite promises that he would.
"The event ... is a remarkable moment in President Trump's young White House tenure — illustrating how the longtime businessman has retained some of his old identity as a golf-course impresario even as he adjusts to the presidency," according to the Post. 
As the Post points out, Trump has been criticized by Democrats and ethics experts on a number of occasions for his apparent conflicts of interest.
In January, just before Trump's inauguration, Mar-a-Lago — his private resort in Palm Beach, Florida — doubled its initiation fees from $100,000 to $200,000, which some saw as Trump attempt to cash in on his presidency.
Similar criticisms were aimed at Trump in February, after it was revealed that the Pentagon was considering renting space in Trump Tower in order to protect first lady Melania Trump and their son, Barron — which would seemingly mean taxpayer dollars going into Trump's pocket in the form of a rent check.
Congress also announced plans in May to rent space in Trump Tower for the Secret Service, which Meredith McGehee — chief of policy, programs and strategy at the nonprofit Issue One — told NPR gives "the appearance that President Trump, through his businesses, may directly benefit financially from charging the Department of Defense to do its job."
Trump's golf resorts — which brought in almost half of his revenue last year, according to the New York Times — have especially seemed to benefit from his new role as "golfer-in-chief," the Times reported. His course in Bedminster, New Jersey, will host the U.S. Women's Open in July and the PGA Championship in 2022.
"The stars have all aligned," Eric Trump told the Times in March. "I think our brand is the hottest it has ever been."