Nintendo Switch 'Monster Hunter XX' Trailer: Capcom shows off first footage of game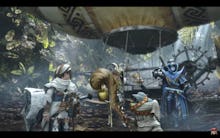 Monster Hunter XX for Nintendo Switch has received its first trailer. This is good news for fans of Capcom's famously long-running and mechanically esoteric beastie slaying simulator Monster Hunter, especially those who have been holding out for a console release ever since Monster Hunter Tri came out on the Nintendo Wii in 2010. At a Capcom event this weekend for the series, the first gameplay footage of the sequel to Monster Hunter Generations on the Nintendo Switch was revealed.
Monster Hunter XX Nintendo Switch: Cross-play between Switch and 3DS will be possible
According to Kotaku, the footage was released this weekend as part of a special event for Monster Hunter being held by Capcom. The video, embedded below, showed hunters facing off against fan favorites like Rathalos and newcomers like Mizutsune, before showing off a monster that's presumably new to Double Cross.
Good news for Switch-less players as well: Siliconera said that the Switch version of the game would support cross-play with 3DS systems as well, along with the Switch version supporting a max resolution of 1080p. It also reported that the games would have local multiplayer — in case you still have bad memories of online randoms rage-quitting Akantor hunts as soon as the first player faints.
Both sites reported that the Switch version of Monster Hunter XX would be released on August 25 — the 3DS version has been out since March 18. There's still no word on whether or not the 3DS and Switch version will be ported to North America. Given we've gotten most major Monster Hunter installments like Monster Hunter Generations and Monster Hunter 4 Ultimate before that, it seems like a safe bet there will be a North American release as well, but we're not likely to hear about it before E3.
More gaming news and updates
Check out the latest from Mic, including our list of video games that made fun of their players, a personal essay about dealing with anxiety through Breath of the Wild, a look at the racist and sexist experiences in eSports and a plea for better character customization options for black characters.