Rodrigo Duterte jokes about soldiers committing rapes under martial law he ordered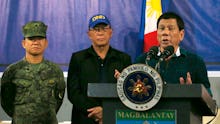 Philippines President Rodrigo Duterte, the authoritarian leader accused of overseeing death squads that have killed thousands, joked about government soldiers committing rape during martial law, Reuters reported.
During an address to soldiers on the island of Mindanao, where Duterte imposed martial law in an attempt to crush Islamic State-linked Abu Sayyaf militants, the president said, "If you go down, I go down. But for this martial law and the consequences of martial law and the ramifications of martial law, I and I alone would be responsible, just do your job I will take care of the rest."
"I'll imprison you myself," he added, referring to troops involved in crimes against the civilian population. "If you had raped three, I will admit it; that's on me."
According to Reuters, Duterte had previously "caused outrage" for joking about the rape of an Australian missionary during a massive prison riot.
Between taking office in June 2016 and April 2017, human rights groups, including Amnesty International, say at least 7,000 people have been murdered by anti-drug death squads that indiscriminately execute both pushers and users. Witnesses have said Duterte, who has claimed to have personally participated in the death squads while serving as mayor of Davao City, oversaw the executions and instructed members on how to dispose of bodies.
U.S. President Donald Trump, nonetheless, told Duterte he was doing an "unbelievable job" on the drug issue in an April call, the Washington Post recently reported, and Trump has invited him to the White House.