'Friday the 13th' game searching for sessions: Are the servers down?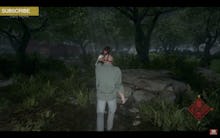 Friday the 13th game players are running into server issues, specifically one in which they get stuck with the game searching for sessions. If you're encountering this problem, it's highly likely it's nothing on your end causing it. Friday the 13th: The Game launched yesterday, and the massive influx of players is bringing the servers down.
If you're wondering what's going on, we've got the information for you right here.
Friday the 13th game searching for sessions: Xbox One servers hit hardest
According to GameSpot, server issues have plagued the game's launch, which tweets from the game's official Twitter account have attributed to the massive influx of players caused by the game's release on May 26.
An update to the GameSpot coverage reports that Gun Media, the game's developer, has taken to the game's Kickstarter page to clarify what's being done to deal with this increased demand.
"We are currently being slammed by thousands and thousands of players and had our servers go down," the developer wrote. "The servers should be back up, but there is a chance of downtime as we manage server load and spin up more servers to meet demand."
According to GameSpot, players aren't experiencing these issues equally, but for those it's affecting, complaints of long queue times have also dogged the game's wider release, especially on the Xbox.
Unfortunately, there's not much that can be done until Gun Media finishes getting more servers online. The developer has suggested creating private games in the meantime and coordinating with other fans of the game on the Steam forums, though that's not much help to players on the Xbox One and PS4. Some console players have set up similar rooms, however, so your best bet would be to coordinate with friends if you can. After all — isn't a group of people uniting to stop something that seems impossible to overcome really in the spirit of what Friday the 13th is all about?
More gaming news and updates
Check out the latest from Mic, including our list of video games that made fun of their players, a personal essay about dealing with anxiety through Breath of the Wild, a look at the racist and sexist experiences in esports and a plea for better character customization options for black characters.