'Final Fantasy 14' Gold Saucer event returns: Info about upcoming Make It Rain campaign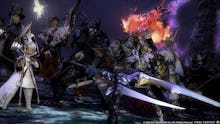 Although we're still a month away from Final Fantasy XIV's latest expansion Stormblood, Square Enix has something in the works to hold fans over until that drops on June 20 — a new event centered around everyone's favorite den of gambling and vice, the Gold Saucer. Yes, the Make It Rain campaign is back, and we've got the info about when it starts, what you'll have to do and what rewards you stand to reap from completing it.
Final Fantasy 14 Gold Saucer event returns: What's the scoop about the Make It Rain campaign
According to Siliconera, the Make It Rain campaign made its debut last year in the game's Gold Saucer. It included 50% gains on MGP (Manderville Gold Saucer Points), special items and a new quest line that tasked players with solving a mystery. The new Make It Rain campaign will begin on Monday, May 29 at 8:00 p.m. PDT and will go all the way to June 12 at the same time.
According to the official Final Fantasy XIV lodestone for the event, there are five special items to find — a new hairstyle called "Rainmaker," a tabletop item called the Stuffed Sabotender and three cards you can use in Triple Triad. If you're looking to get in on the Make It Rain campaign, you'll have to find a down-on-his-luck merchant called Beggarly Bloke in Uldah, Steps of Nald.
You've got two weeks to experience the event, so make them count. After that, it's only going to be eight days until Stormblood comes out, so Final Fantasy XIV fans have a lot to look forward to starting Monday.
More gaming news and updates
Check out the latest from Mic, including our list of video games that made fun of their players, a personal essay about dealing with anxiety through Breath of the Wild, a look at the racist and sexist experiences in esports and a plea for better character customization options for black characters.