Police release photos of Manchester bombing suspect Salman Abedi on night of attack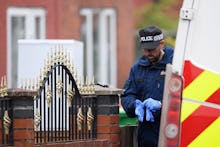 British authorities have released a photo of Salman Abedi, the man they say was responsible for a bombing at an Ariana Grande concert, which left 22 dead and 150 others injured.
According to the Manchester Evening News, forensic teams had identified Abedi as the primary suspect within "two hours" of the attack, a suicide bombing that triggered waves of panic and a human stampede at Manchester Arena. The paper added police say they have gathered reams of information about Abedi, "his associates, his finances, the places he had been, and how the device was built and the wider conspiracy" surrounding the attack but have not released the findings yet.
Police encourage people who may have seen Abedi on the night of the attack to come forward and provide more information that could help investigative efforts.
Police added they have served 17 warrants, mainly in Greater Manchester, in relation to the attack and have arrested 13 people. Also, roughly 1,000 personnel are involved in the investigation, according to the Evening News.
Abedi was the U.K.-born son of two Libyan immigrants. The New York Times reported a Libyan militia had detained both his father and younger brother there, accusing the latter of plotting his own attack in Tripoli.
Abedi's extreme views were no secret, according to the Guardian, which said five years ago his friends called a counter-terrorism hotline to express concerns about his beliefs and behavior. Associates told the Guardian he was known as disagreeable and slow in school, and was known for partying, but he traveled to Libya in 2011 with his father to fight for the Libyan Islamic Fighting Group against late dictator Muammar Gaddafi.