Mississippi Shooting: Police say 8 are dead, suspect is in custody following shooting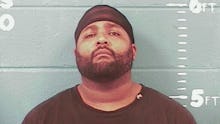 Eight people have died in a shooting in Lincoln County, Mississippi, including a deputy sheriff, the Associated Press reported. The suspect is reportedly now in custody.
Mississippi Bureau of Investigation spokesman Warren Strain told the AP the shootings took place Saturday night in three separate homes in Brookhaven and Bogue Chitto, Mississippi. In addition to the deputy sheriff, who has been identified as 36-year-old William Durr, the victims included four women, one adult man and two juvenile males, local paper The Daily Leader reported.
The suspect also took a 16-year-old male hostage, who has been found safe, according to The Daily Leader.
The suspect has been identified as Willie Corey Godbolt, Lincoln County Sheriff Steve Rushing confirmed to the Daily Leader. Godbolt, who has a long criminal history, was arrested by police shortly before 7:00 a.m. and is currently being treated at the hospital for a gunshot wound.
It is currently unclear what the suspect's motive was or if he knew the victims, the AP reported. In an interview on the scene with reporter Therese Apel of the Clarion-Ledger, Godbolt said he did not intend to kill the deputy sheriff and was attempting to commit suicide by being shot by police.
"My pain wasn't desired for him. He was just there," Godbolt said about Durr in a video shared on Twitter.
Durr arrived in response to a call about a domestic dispute on Saturday around 11:30 p.m., which is when the shooting spree began, the Daily Leader reported. Godbolt told the Clarion-Ledger that he was speaking with his wife and her family about their children at the time.
"I was having a conversation with her stepdaddy and her mama and her, my wife, about me taking my children home," Godbolt told the Clarion-Ledger. "Somebody called the officer, people that didn't even live at the house. That's what they do. They intervene."
Though the suspect is currently in custody, no charges have been filed yet, the AP reported. 
In a statement, Mississippi Gov. Phil Bryant responded to the shooting and the deputy sheriff's death.
"I ask all Mississippians to join Deborah and me in praying for those lost in Lincoln County," Bryant said, as quoted by The Daily Leader. "Every day, the men and women who wear the badge make some measure of sacrifice to protect and serve their communities. Too often, we lose one of our finest. I thank the law enforcement agencies involved for their hard work. May the peace of the Almighty wash over those hurting after this senseless tragedy."
This story is breaking and will be updated.