Willie Corey Godbolt: What we know about the Mississippi shooting suspect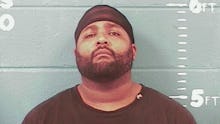 Willie Corey Godbolt is currently in custody for multiple deaths in Lincoln County, Mississippi, the Daily Leader reported.
The 35-year-old was arrested shortly before 7:00 a.m. Sunday morning after allegedly killing eight people in three separate residences, including a deputy sheriff. Godbolt also reportedly held a 16-year-old male hostage, who has been found safe.
According to arrest records cited by the Daily Leader, Godbolt has a lengthy criminal history. The alleged killer was charged with armed robbery and aggravated assault after reportedly striking a man with a pistol and stealing his cash and possessions in 2005. He was also arrested in 2013 for simple assault. Both incidents took place in Lincoln County.
In 2015, Godbolt was arrested by the Lincoln County Sheriff's Department for disorderly conduct/breach of peace and failure to comply with request. That same year, he was also arrested by the Mississippi Highway Patrol for driving with a suspended license as well as speeding and having no proof of liability insurance.
Most recently, Godbolt was arrested in 2016 for contempt of Justice Court and simple assault. He also filed an appeal in 2016 against a judgement in a simple assault and disorderly conduct case against him.
In an interview with reporter Therese Apel of the Clarion-Ledger, Godbolt revealed that he is married and was talking about taking his children home when the altercation with the deputy sheriff occurred.
"I was having a conversation with her stepdaddy and her mama and her, my wife, about me taking my children home," Godbolt told the Clarion-Ledger. "Somebody called the officer, people that didn't even live at the house."
In the interview, Godbolt also revealed he was not intending to make it out of the altercation alive and was hoping to commit "suicide by cop."
"I ain't fit to live," Godbolt said. "Not after what I done."