UK school that bans short sleeves under fire for "sexualization of young girls"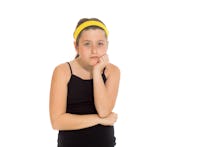 Students at the selective U.K. Simon Langton Girl's Grammar School are pushing back against an "oppressive and demeaning" dress code that bans sleeveless shirts, according to the Telegraph. 
In a petition, sixth form students — who would be roughly 16 to 18 years old — are asking that they be allowed to wear tops that show shoulder. 
Maddi Lane, the student who started the petition, explained that they aren't "trying to 'flaunt' anything," according to the Telegraph, but "just want to feel comfortable in a school environment." Britain, it bears noting, is in the middle of a heat wave. 
"Many of the students in the SLGGS sixth form have disagreed with the dress code rule that states girls should not wear strappy or sleeveless tops that reveal the shoulders," the petition reads, according to the Telegraph. "This rule encourages the disturbing sexualization of young girls' bodies, most of which are underage." 
"This rule encourages the disturbing sexualization of young girls' bodies, most of which are underage." 
Head teacher Dr. Matthew Baxter, who presides over both the girls school and the Simon Langton Boy's School in Canterbury, told the Telegraph that "both Langton schools will ensure that the same dress code applies to all students within their sixth form." And while Langton's dress code does prohibit "vest tops" and other sleeveless shirts for both girls and boys, the girl's school is subject to more wardrobe restrictions.
When seemingly standard clothing items are placed off limits for women and girls, it's not necessarily because those garments are actually provocative. Typically, it's because — as the petition points out — female bodies are often viewed as inherently sexual. 
Take, for example, the 12-year-old girl who was asked to change her knee-length at a chess tournament because the chief arbiter, a man, deemed it too "seductive." Or the 13-year-old who was sent home from school for wearing shorts that reached her mid-thigh and a baggy T-shirt. Or the high school senior who might not get to graduate because she wore an off-the-shoulder top to class — in North Carolina — in late May. 
Sexist dress codes don't end with school, though — the workplace is ripe for outfit shaming, which is one reason the girls at Simon Langton are pressing the issue. 
"It is our job to change the oppressive and demeaning standards that women are forced to abide by," the petition reads, "or nothing will change in the future."