Portland Stabbing: Victims hailed as heroes in Friday attack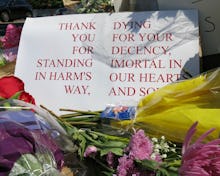 Portland police have identified the victims in Friday's stabbing on a Portland MAX light rail train as 23-year-old Taliesin Myrddin Namkai Meche and 53-year-old Ricky John Best, the Washington Post reported. A third victim, 21-year-old Micah David-Cole Fletcher, survived the stabbing and is being treated for non-life threatening injuries.
The three men were allegedly stabbed by Jeremy Joseph Christian after coming to the defense of two Muslim women Christian was harassing. Christian was taken into custody on Saturday and is being held without bail.
"Two men lost their lives and another was injured for doing the right thing, standing up for people they didn't know against hatred," Portland Mayor Ted Wheeler said in a statement, according to the Washington Post. "Their actions were brave and selfless, and should serve as an example and inspiration to us all. They are heroes."
Here's what to know about the three victims in this tragic attack.
Taliesin Myrddin Namkai Meche
Namkai Meche was a 2016 graduate of Reed College, where he majored in economics, according to a Facebook post from the college. In the statement, a former professor described the victim as "thoughtful, humble, smart, inquisitive, and compassionate. He was a wonderful human being."
According to BuzzFeed News, Namkai Meche was working as an intern for the Cadmus Group, a consulting company.
Namkai Meche's aunt was reportedly on the phone with him before his death, KATU reported.
"I was on the phone when it happened and I heard the hate speech from a white supremacist," she told KATU. "I told him to get off the phone with me and videotape what was happening so he could send it to police. I didn't mean for him to try to be a hero and get himself killed but he was trying to protect those two teenage girls. Taliesin was huge, just look at him, his soul didn't even fit in his body, so much love."
Ricky John Best
Best was an Oregon native, an Army veteran and father of four, the Oregonian reported. He worked as a technician at Portland's Bureau of Development Services and was headed to his home in Happy Valley, Oregon, when the attack occurred.
Best, 53, retired from the U.S. Army in 2012 after 23 years of service, the Oregonian reported. He then went on to run unsuccessfully for Clackamas County commissioner in 2014. "I can't stand by and do nothing," Best told the Oregonian in a 2014 profile of his campaign, which, the article notes, did not accept any outside donations.
"He was always the first person you would go to for help," Best's supervisor at the Bureau of Development Services, Kareen Perkins, told the Oregonian. "I've talked to most of his coworkers today, and several of them said it's just like Rick to step in and help somebody out." 
Micah David-Cole Fletcher 
Fletcher, the sole survivor of the fatal attack, is a 21-year-old college student at Portland State University, the Oregonian reported. He is a poet and member of youth poetry group Spit/WRITE, and is reportedly passionate about social injustice. 
In a 2013 poetry slam, Fletcher performed a poem about prejudice against Muslims that won the event, the Oregonian reported. His poem read:
"When two towering trees of wrought iron and glass and cement are brought down to their knees,
Fletcher was stabbed in the neck "millimeters away from his jugular," the Oregonian reported. He underwent surgery to remove bone fragments in his neck and is expected to be in the hospital for a few more days.
A GoFundMe page has been set up to pay for Fletcher's medical expenses, which has raised over $89,000 as of this writing, and two additional GoFundMe campaigns have been set up for the families of the victims; the Bilal Mosque in Beaverton, Oregon, has also established their own fund for the victims' families, according to BuzzFeed News.