After Trump visit, Germany's Angela Merkel says Europe can no longer depend on US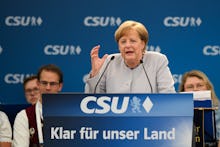 President Donald Trump's European trip did not go well from a diplomatic standpoint, judging from remarks by German Chancellor Angela Merkel on Sunday.
After a series of faux pas by Trump in Brussels — including when he appeared to shove a fellow NATO leader — Merkel said at a campaign rally, "The times in which we could completely depend on others are on the way out. I've experienced that in the last few days."
"We Europeans truly have to take our fate into our own hands," she said, adding, "We have to fight for our own destiny."
Merkel's remarks were also in reference to the U.K. after the fallout from its Brexit vote last year. But the speech also followed what the chancellor had earlier described as a "six against one" and "very difficult" talk at the G7 summit in Sicily with the U.S. over the Paris climate accords, according to the BBC.
The president has publicly insisted the trip was a "great success."
The apparent vote of no confidence from one of the U.S.' closest allies may be unlikely to deter the president, but it does reflect growing discord with Europe over a number of issues, including climate change, Russian territorial aggression and trade. 
Foreign policy experts suggested the fallout of Trump's course of action could be further deterioration of the cross-Atlantic alliance, which has been a persistent feature of global relations since World War II.
Trump refused to commit one way or another to remaining in the Paris climate agreement, which could tank without U.S. support, and said he would reach a determination next week. He also declined to affirm NATO's defense provisions, alarming allies who see a mutual defense of Europe as a non-negotiable element of the U.S.-European alliance.