Laptops could be banned on all international flights in and out of the US, Kelly says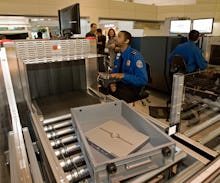 It may soon be against the rules for travelers to pack laptops in their carry-on bags when flying into and out of the United States, Secretary of Homeland Security John Kelly suggested in an interview with Fox News Sunday.
Asked if he was considering a ban on laptops in the cabins of international flights, Kelly replied, "I might."
"There's a real threat, there's numerous threats against aviation," Kelly said. "That's really the thing that they're obsessed with, the terrorists, the idea of knocking down a carrier in-flight, particularly if it's a U.S. carrier, particularly if it's full of mostly U.S. folks. It's real."
Attacks on airplanes are the "hardest to do but the biggest payoff for these people," Kelly said, apparently referring to the terrorist groups motivating the current crackdown on in-flight electronics. Kelly nodded to the ban placed on large electronic devices for flights out of 10 airports in the Middle East and North Africa in March, which did not affect U.S. airlines. 
Kelly didn't reference any specific terrorist groups by name, and did not offer a timeline. He did say, however, that the restrictions would apply to all flights coming into and flying out of the U.S. He also said the potential ban could be part of larger restrictions placed on overfull carry-on bags, which might mean travelers have to place food, liquids, electronics, shoes and various other items in their separate bins. 
"We are gonna raise the bar for, generally speaking, aviation security much higher than it is now," he said. "And there's new technologies down the road, not too far down the road that we'll rely on. But it is a real, sophisticated threat."