Adam Schiff calls for Jared Kushner's security clearance to be reviewed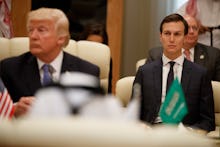 The top Democrat on the House Intelligence Committee, California Rep. Adam Schiff, thinks President Donald Trump's senior adviser and son-in-law Jared Kushner should appear before his committee and face a security clearance review.
Schiff said Sunday on ABC's This Week that Kushner's recently exposed role in attempting to set up a secret back channel to the Russian government was concerning — contradicting administration officials like DHS Secretary John Kelly, who said such back channels are normal, Reuters reported.
Schiff listed several valid uses of such a back channel, but then added, "But for people associated with the campaign, after that campaign has ended and where the Russians during that campaign were helping you, to try to establish a back channel and hide it from your own government, that's a serious allegation."
Schiff asked why Kushner allegedly asked to use secure Russian diplomatic equipment, saying, "You have to ask, well, who are they hiding the conversation from?"
The Democratic National Committee has already called for Kushner's security clearance to be suspended while investigations into his conduct continue.
Accusations of collusion with Russian intelligence operatives who leaked materials embarrassing to Democrats have beleaguered the Trump administration since the campaign season. During and after his run for president, Trump repeatedly praised Russian President Vladimir Putin and called for a reset in U.S.-Russia relations.
Kushner's requested back channel could be used for legitimate diplomatic reasons, but the circumstances call to mind shadier implications, as when Blackwater founder Erik Prince was accused of doing the same.