'The Last of Us' Mods: What it's like playing as Tess instead of Joel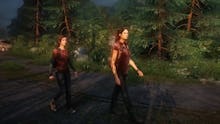 The Last of Us mods are hard to come by, but they do exist. One mod has been developed that lets you play as Tess instead of Joel through the main game. The Last of Us is already one of the most poignant stories told through the video game medium, but as the video below by YouTube user Freako shows, it takes on a slightly different vibe when you see Tess and Ellie journeying together instead of Ellie and Joel.
(Editor's Note: Spoilers for The Last of Us below.)
The Last of Us Mods: Replacing Joel with Tess reveals a whole new dynamic to the game
When Joel first meets Ellie, he only reluctantly escorts her, though they obviously warm up to each other as the game goes on. By the end of The Last of Us, they have a relationship, not unlike that of father and daughter.
However, as you can see in the video, having Tess take Joel's place adds a sense of danger and melancholy that don't get in the original plot. It's not hard to imagine Tess as Ellie's mother, and watching it made me realize we get to play through a lot of father and daughter-centric plots in gaming, but not a lot concerning mothers and daughters.
The Last of Us is an incredible game and did a great job telling the story it wanted to tell. However, I'd love to see a title take a similar approach from a woman's point of view, and this mod is a great example of how that could feel.
As far as actually installing the mod, there's not a lot of detail. Presumably, this is all done on a modded PlayStation 3 where you can insert and manipulate code. That means for most of us this mod is out of reach. However, for those who want to get more of The Last of Us, a sequel is in development that is slated for release sometime in 2018.
More gaming news and updates
Check out the latest from Mic, including our list of video games that made fun of their players, a personal essay about dealing with anxiety through Breath of the Wild, a look at the racist and sexist experiences in esports and a plea for better character customization options for black characters.