'FIFA 18' Name Change: 'EA Sports FIFA' is the new title for the Nintendo Switch version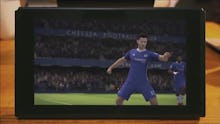 It seems that FIFA 18 for the Nintendo Switch is getting a name change when it launches in the fall. The Switch version of the game will be titled EA Sports FIFA according to the lineup for EA Play 2017, which was released Friday on EA's website and via press release. This is contradictory to previous announcements EA representatives have made, so what exactly is going on here?
EA Sports FIFA: Is FIFA 18 going to be the same on the Switch?
In February, former EA chief competition officer Peter Moore announced that the Switch would be getting FIFA 18, and indicated that the title would be custom built for the Switch. Before the announcement, EA had been referring to the Switch version of FIFA as EA Sports FIFA on the Nintendo Switch, which was assumed to be a placeholder title.
It was expected since Moore's announcement that EA was planning to bring the full FIFA experience to the Switch, and that carrying the FIFA 18 name was an indicator of that commitment. However, in EA's official documentation on EA Play 2017, the Nintendo Switch version of the game has reverted to its original title: EA Sports FIFA on the Nintendo Switch.
A concern now, as suggested by Eurogamer, is that the Switch version may in fact not be on parity with the Xbox One and PlayStation 4 FIFA 18 offerings this year. Instead of being built on EA's premier Frostbite game engine, it may instead be using the less complex Ignite engine that is being used with the PlayStation 3 and Xbox 360 versions of the game.
Since the days of the GameCube, Nintendo has had issues with getting the scraps when it comes to sports games. A prime example of a name switcharoo is Madden NFL Football for Nintendo 3DS, in which EA Sports deliberately didn't put a year so as not to guarantee a follow-up if they decide to pull support.
Whether EA Sports FIFA will offer the same experience as FIFA 18 is up in the air. Unfortunately, for Nintendo Switch sports fans, we likely won't know more until the EA Play 2017 conference June 10.
More sports gaming news and updates
Love sports games? Check out more content from Mic, including tips for leveling up your NBA 2K17 MyPlayer, playing quarterback in Madden 17, our review of MLB the Show 17 and the classic Nintendo sports games we want to see on the Switch.