North Korea launches unidentified projectile, likely another ballistic missile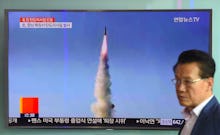 North Korea launched an unidentified projectile that is likely another missile on Sunday evening, Reuters reported, citing South Korean military sources.
"The launch was immediately reported to President Moon Jae-in, who called a meeting of the National Security Council at 7:30 a.m. (2230 GMT Sunday), the South Korean office of the Joint Chiefs of Staff said in a statement," according to Reuters.
The launch follows numerous other North Korean missile tests in recent months. Amid worsening tensions on the Korean peninsula, North Korean leader Kim Jong Un has hastened the number of such tests as a way of flexing his country's military might and demonstrating its nuclear ambitions.
The U.S. has deployed multiple defensive measures including land-based and naval missile destroyer systems to the region, as well as threatened measures up to and including military retaliation.
South Koreans have largely greeted the increased saber rattling on the peninsula with ambivalence, believing the situation to be business as usual.