Paris mayor denounces black feminist festival because it is "forbidden to white people"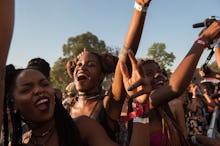 In a series of tweets on Sunday, Paris Mayor Anne Hidalgo condemned a black feminist festival planned for July. The three-day festival, she said, is discriminatory because it is "forbidden to white people," the Associated Press reported.
Mwasi Collectif, the organizers of the event, asked for support on Twitter on Sunday:
The Nyansapo Festival, slated for July 28 to 30, aims to "put the accent on how our resistance as an Afro-feminist movement is organized." The festival is organized into distinct spaces: 80% of the venue is reserved for black women only, another section is open to black people of any gender and the third section is open to all. "We aim to build long-term strategies and solidarities, and that is why it is important to meet, to share so we can keep fighting," its website states.
BuzzFeed News reported that a far-right French site Fdesouche was the first to characterize the event as "forbidden to whites." Other far-right groups and supporters criticized the event in social media communities in France. Anti-racism groups also denounced the festival for being discriminatory. The International League Against Racism and Anti-Semitism went so far as to say "Rosa Parks would be turning in her grave," according to the BBC.
On Monday morning, Hidalgo tweeted that she had reached a "clear solution" with the organizers.
"The festival organized in a public place will be open to all," she tweeted. "Non-mixed workshops will be held elsewhere, in a strictly private setting. 
"This clarification should enable the #Nyansapo festival to fulfill its role: helping to strengthen the fight against racism and sexism."
In response, the Mwasi Collectif issued a statement on Facebook: 
"We discover, not without astonishment, that Mrs Hidalgo, under the assumption that a "firm" intervention on her part would have made us change our program and its unfolding. There is nothing more wrong.
The U.K. chapter of Black Lives Matter tweeted in support of the festival and against officials who hoped to shut it down.
May 29, 2017, 12:35 p.m.: This post has been updated.